Tantric Sex Coach Training
What does a Tantric Sex Coach do? First of all, what is Tantra? What is Tantric Sex? Why do you need a Coach? Why do you need to be trained?
Everyone loves sex, but how do we learn about it? if you are lucky you learn from an older partner, or a more experienced lover. Most people learn from their peers, as teenagers, using the "trial and error" method.
Some people want to improve their sex life. Many men want to learn control so they can last longer and pleasure their lover longer.
A lot of women don't know how to "turn themselves on" sexually – how to tune in to their feminine sexual energy or how to really enjoy making love  with their partner.
So there is a lot of information on the internet about Tantra and Tantric Sex,  but how do you know you are doing it right? Thats where Tantric Sex Coaches come in…
Tantra
Tantra comes from ancient India. Taoist teachings from ancient China are similar to Tantra. The word Tantra means to expand and weave. That's what you learn to do and teach others – expand their sexual energy and weave it around their bodies between you and your lover.
Tantric Sex
Tantric Sex is that close connection you have that can lead to out-of-body ecstatic orgasmic sex and pleasure that seems to last forever. It can take you to other places, other spaces, and an expanded sense of beingness. Many people have tried to explain it, but the experience is beyond words, beyond description. You know that you have been "out there" or "in there" or "away somewhere" because you feel yourself "coming back"!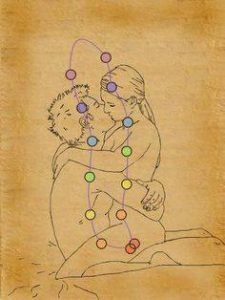 How do you create that connection? How can you do that, step by step, whenever you want? Tantric techniques are the answer. Breathing, moving, and consciously being present with your self and your partner, are some of the keys.
Tantric Sex Coach
A Tantric Sex Coach guides and teaches people (singles and couples) Tantric exercises so that they can get to those heights. You can teach men how to control their orgasm and ejaculation so they can have multiple orgasms. Teach women how to get in touch with their sexual energy, enhance it, so they can relax and enjoy more pleasure when making love.
Coaching in intimacy and sexuality is more than teaching people how to have mind-blowing sex! It's more about Sex Ed – education about male and female sex organs, how sexual energy works, and teaching about what each person  may like best. It's teaching people about how to love yourself, self pleasuring, learning and teaching new strokes for themselves and their partner, and much more…
It's teaching people about conscious breathing together to create closer intimacy and connection. Tantra can be very healing on many levels.
Tantric Sex Coach Training
Training is a minimum of 3 days, and can be conducted in most states of Australia. See information on other pages regarding Pricing of Basic and Advanced Tantra Training.
So what are you waiting for? Fill out the Application Form, Book your training session with Ally, Tantric Sex Coach. Ally has been teaching and coaching people about Tantra since 2008 (see My Tantra Massage for more information). She is author of the book "What Men and Women Really Want – 6 Tantric Love Secrets". Enjoy learning with her how to teach others how to enhance their sex life, ignite their passion and have more joy and blissful pleasure for themselves, their friends and family, and the world.